Desperate Journalist Release Brand New Album 'IN SEARCH OF THE MIRACULOUS'
Posted: 2019-02-22 14:07:32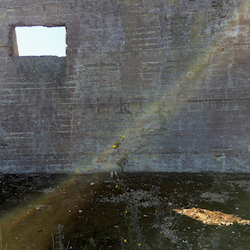 Desperate Journalist, the latest addition to the Fierce Panda Canada family, recently released their amazing sophomore album In Search of the Miraculous.
If the album title conveys to you a sense of wide-eyed ambition, then the music on In Search Of The Miraculous fits the plot perfectly. The album features ten tracks fizzing with creative passion, giant choruses, heroic solos, and poetic intensity. "I never liked your favourite band," sighs Ho on the ever-so relatable track 'Jonatan'. The band took an inspirational leaf from the likes of The Smiths and The Cure but reinterpreted the iconic sound with infectious modern hooks.
Jo Bevan (vocals), Simon Drowner (bass), Rob Hardy (guitar), and Caz Hellbent (drums) collectively created a spellbinding album that will take you through a miraculous journey of wonder and nostalgia.
It's an album about the beauty of hope, the excitement of possibility, and of course love - because it always comes back to that reality - Jo Bevan